25
https://forums.nicoclub.com/viewtopic.php?p=6839155#p6839155
https://forums.nicoclub.com/viewtopic.php?p=6839154#p6839154
https://forums.nicoclub.com/viewtopic.php?p=6839146#p6839146
https://forums.nicoclub.com/viewtopic.php?p=6839137#p6839137
https://forums.nicoclub.com/viewtopic.php?p=6839127#p6839127
https://forums.nicoclub.com/viewtopic.php?p=6839126#p6839126
https://forums.nicoclub.com/viewtopic.php?p=6839125#p6839125
https://forums.nicoclub.com/viewtopic.php?p=6838997#p6838997
https://forums.nicoclub.com/viewtopic.php?p=6838990#p6838990
https://forums.nicoclub.com/viewtopic.php?p=6838964#p6838964
https://forums.nicoclub.com/viewtopic.php?p=6838960#p6838960
https://forums.nicoclub.com/viewtopic.php?p=6838877#p6838877
https://forums.nicoclub.com/viewtopic.php?p=6838746#p6838746
https://forums.nicoclub.com/viewtopic.php?p=6838735#p6838735
https://forums.nicoclub.com/viewtopic.php?p=6838700#p6838700
https://forums.nicoclub.com/viewtopic.php?p=6838681#p6838681
https://forums.nicoclub.com/viewtopic.php?p=6838663#p6838663
https://forums.nicoclub.com/viewtopic.php?p=6838656#p6838656
https://forums.nicoclub.com/viewtopic.php?p=6838645#p6838645
https://forums.nicoclub.com/viewtopic.php?p=6838644#p6838644
https://forums.nicoclub.com/viewtopic.php?p=6838643#p6838643
https://forums.nicoclub.com/viewtopic.php?p=6838642#p6838642
https://forums.nicoclub.com/viewtopic.php?p=6838637#p6838637
https://forums.nicoclub.com/viewtopic.php?p=6838622#p6838622
https://forums.nicoclub.com/viewtopic.php?p=6838593#p6838593
Array
(
    [0] => https://forums.nicoclub.com/viewtopic.php?p=6839155#p6839155
    [1] => https://forums.nicoclub.com/viewtopic.php?p=6839154#p6839154
    [2] => https://forums.nicoclub.com/viewtopic.php?p=6839146#p6839146
    [3] => https://forums.nicoclub.com/viewtopic.php?p=6839137#p6839137
    [4] => https://forums.nicoclub.com/viewtopic.php?p=6839127#p6839127
    [5] => https://forums.nicoclub.com/viewtopic.php?p=6839126#p6839126
    [6] => https://forums.nicoclub.com/viewtopic.php?p=6839125#p6839125
    [7] => https://forums.nicoclub.com/viewtopic.php?p=6838997#p6838997
    [8] => https://forums.nicoclub.com/viewtopic.php?p=6838990#p6838990
    [9] => https://forums.nicoclub.com/viewtopic.php?p=6838964#p6838964
    [10] => https://forums.nicoclub.com/viewtopic.php?p=6838960#p6838960
    [11] => https://forums.nicoclub.com/viewtopic.php?p=6838877#p6838877
    [12] => https://forums.nicoclub.com/viewtopic.php?p=6838746#p6838746
    [13] => https://forums.nicoclub.com/viewtopic.php?p=6838735#p6838735
    [14] => https://forums.nicoclub.com/viewtopic.php?p=6838700#p6838700
    [15] => https://forums.nicoclub.com/viewtopic.php?p=6838681#p6838681
    [16] => https://forums.nicoclub.com/viewtopic.php?p=6838663#p6838663
    [17] => https://forums.nicoclub.com/viewtopic.php?p=6838656#p6838656
    [18] => https://forums.nicoclub.com/viewtopic.php?p=6838645#p6838645
    [19] => https://forums.nicoclub.com/viewtopic.php?p=6838644#p6838644
    [20] => https://forums.nicoclub.com/viewtopic.php?p=6838643#p6838643
    [21] => https://forums.nicoclub.com/viewtopic.php?p=6838642#p6838642
    [22] => https://forums.nicoclub.com/viewtopic.php?p=6838637#p6838637
    [23] => https://forums.nicoclub.com/viewtopic.php?p=6838622#p6838622
    [24] => https://forums.nicoclub.com/viewtopic.php?p=6838593#p6838593
)

25
https://forums.nicoclub.com/viewtopic.php?p=6839167#p6839167
https://forums.nicoclub.com/viewtopic.php?p=6839151#p6839151
https://forums.nicoclub.com/viewtopic.php?p=6839059#p6839059
https://forums.nicoclub.com/viewtopic.php?p=6838998#p6838998
https://forums.nicoclub.com/viewtopic.php?p=6838884#p6838884
https://forums.nicoclub.com/viewtopic.php?p=6838883#p6838883
https://forums.nicoclub.com/viewtopic.php?p=6838880#p6838880
https://forums.nicoclub.com/viewtopic.php?p=6838823#p6838823
https://forums.nicoclub.com/viewtopic.php?p=6838820#p6838820
https://forums.nicoclub.com/viewtopic.php?p=6838817#p6838817
https://forums.nicoclub.com/viewtopic.php?p=6838787#p6838787
https://forums.nicoclub.com/viewtopic.php?p=6838765#p6838765
https://forums.nicoclub.com/viewtopic.php?p=6838702#p6838702
https://forums.nicoclub.com/viewtopic.php?p=6838692#p6838692
https://forums.nicoclub.com/viewtopic.php?p=6838688#p6838688
https://forums.nicoclub.com/viewtopic.php?p=6838620#p6838620
https://forums.nicoclub.com/viewtopic.php?p=6838589#p6838589
https://forums.nicoclub.com/viewtopic.php?p=6838588#p6838588
https://forums.nicoclub.com/viewtopic.php?p=6838587#p6838587
https://forums.nicoclub.com/viewtopic.php?p=6838586#p6838586
https://forums.nicoclub.com/viewtopic.php?p=6838585#p6838585
https://forums.nicoclub.com/viewtopic.php?p=6838584#p6838584
https://forums.nicoclub.com/viewtopic.php?p=6838581#p6838581
https://forums.nicoclub.com/viewtopic.php?p=6838580#p6838580
https://forums.nicoclub.com/viewtopic.php?p=6838575#p6838575
Array
(
    [0] => https://forums.nicoclub.com/viewtopic.php?p=6839167#p6839167
    [1] => https://forums.nicoclub.com/viewtopic.php?p=6839151#p6839151
    [2] => https://forums.nicoclub.com/viewtopic.php?p=6839059#p6839059
    [3] => https://forums.nicoclub.com/viewtopic.php?p=6838998#p6838998
    [4] => https://forums.nicoclub.com/viewtopic.php?p=6838884#p6838884
    [5] => https://forums.nicoclub.com/viewtopic.php?p=6838883#p6838883
    [6] => https://forums.nicoclub.com/viewtopic.php?p=6838880#p6838880
    [7] => https://forums.nicoclub.com/viewtopic.php?p=6838823#p6838823
    [8] => https://forums.nicoclub.com/viewtopic.php?p=6838820#p6838820
    [9] => https://forums.nicoclub.com/viewtopic.php?p=6838817#p6838817
    [10] => https://forums.nicoclub.com/viewtopic.php?p=6838787#p6838787
    [11] => https://forums.nicoclub.com/viewtopic.php?p=6838765#p6838765
    [12] => https://forums.nicoclub.com/viewtopic.php?p=6838702#p6838702
    [13] => https://forums.nicoclub.com/viewtopic.php?p=6838692#p6838692
    [14] => https://forums.nicoclub.com/viewtopic.php?p=6838688#p6838688
    [15] => https://forums.nicoclub.com/viewtopic.php?p=6838620#p6838620
    [16] => https://forums.nicoclub.com/viewtopic.php?p=6838589#p6838589
    [17] => https://forums.nicoclub.com/viewtopic.php?p=6838588#p6838588
    [18] => https://forums.nicoclub.com/viewtopic.php?p=6838587#p6838587
    [19] => https://forums.nicoclub.com/viewtopic.php?p=6838586#p6838586
    [20] => https://forums.nicoclub.com/viewtopic.php?p=6838585#p6838585
    [21] => https://forums.nicoclub.com/viewtopic.php?p=6838584#p6838584
    [22] => https://forums.nicoclub.com/viewtopic.php?p=6838581#p6838581
    [23] => https://forums.nicoclub.com/viewtopic.php?p=6838580#p6838580
    [24] => https://forums.nicoclub.com/viewtopic.php?p=6838575#p6838575
)

10
https://www.nicoclub.com/archives/voodoo13-control-arms-install-review-240sx.html
https://www.nicoclub.com/archives/replacing-your-nissan-240sx-convertible-top.html
https://www.nicoclub.com/archives/interview-with-carlos-lago-of-motortrend-meet-the-240ss.html
https://www.nicoclub.com/archives/240sx-open-differential-lsd-swap.html
https://www.nicoclub.com/archives/turn-key-ls-swaps-nissan-240sx.html
https://www.nicoclub.com/archives/ssr-gtv02-wheels-review-installation-nissan-240sx.html
https://www.nicoclub.com/archives/zaklee-rb25det-clear-cam-gear-covers.html
https://www.nicoclub.com/archives/naturally-aspirated-200-wheel-horse-power-dohc-240sx.html
https://www.nicoclub.com/archives/dare-different-twin-charged-rb20-project.html
https://www.nicoclub.com/archives/emusa-turbo-review.html
Array
(
    [0] => https://www.nicoclub.com/archives/voodoo13-control-arms-install-review-240sx.html
    [1] => https://www.nicoclub.com/archives/replacing-your-nissan-240sx-convertible-top.html
    [2] => https://www.nicoclub.com/archives/interview-with-carlos-lago-of-motortrend-meet-the-240ss.html
    [3] => https://www.nicoclub.com/archives/240sx-open-differential-lsd-swap.html
    [4] => https://www.nicoclub.com/archives/turn-key-ls-swaps-nissan-240sx.html
    [5] => https://www.nicoclub.com/archives/ssr-gtv02-wheels-review-installation-nissan-240sx.html
    [6] => https://www.nicoclub.com/archives/zaklee-rb25det-clear-cam-gear-covers.html
    [7] => https://www.nicoclub.com/archives/naturally-aspirated-200-wheel-horse-power-dohc-240sx.html
    [8] => https://www.nicoclub.com/archives/dare-different-twin-charged-rb20-project.html
    [9] => https://www.nicoclub.com/archives/emusa-turbo-review.html
)

240sx.org was established in 1997 from a mailing list that dates back to the early 90's, and became the FIRST comprehensive S-chassis resource on the web.
Today, 240sx.org is the largest and most trafficked destination for 240SX, 200sx, Silvia and 180sx owners and enthusiasts. The Web's most active
240SX classifieds
are here, as well as the internet's ONLY forum dedicated to
240sx Convertible
owners!
Browse our KA, KA-t, SR, RB and CA engine forums, download a
240SX Factory Service Manual
, and shop from over 40 advertisers offering exclusive discounts on
240sx performance parts
to members! Stop in and see why 240sx.org is STILL the premier destination for S-chassis enthusiasts worldwide!
Review: Voodoo13 suspension components for 240sx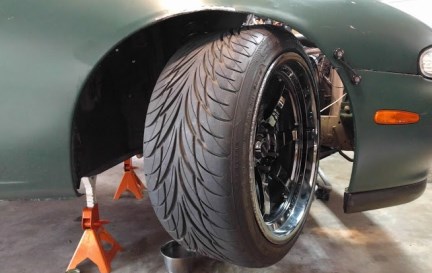 We show you how to install a set of Voodoo13 control arms for the s14, and then we give you guys our impressions on their performance!
Back to Basics: A clean, smooth, reliable S13 classic!

This S13 started off as a plain-Jane, 1990 automatic base model. Now it's an extremely reliable and simple daily driver, dripping with smooth, old-school flair - and it's been built on a shoestring budget. Check it out!
Street Terror: AWD RB26 S13 Coupe Project

Is this the ultimate S13 build?

The story behind Fatman Racing's Pikes Peak 240sx
240sx Convertible Buyers Guide

This article is to help out anybody who is looking into making a very good desicion, buying a 240sx convertible. There are a couple of things the people should look for in a 240sx convertible before purchase.

Project 240sx Convertible gets a KSport air bag suspension installed