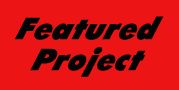 July's Featured Project: 1990 Nissan 240 SX
This 240 SX, owned by Ian Fraser of Calgary, Alberta, Canada, was chosen because it represents possibly the last affordable rear drive sports coupe made. It has a good size engine, is light weight, and has an excellent suspension layout. The theme of this project was stealth and light weight. There is no fancy paint, body kits, or tacky 5 inch exhaust tips to give any hint of what lurks beneath. A no-options model was selected for the lightest possible weight.

Ian did almost all of the work and fabrication on his car, having considerable previous experience preparing various street and race cars.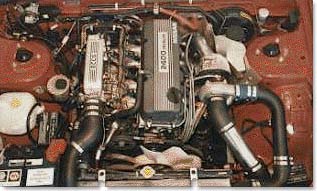 Power for the 240 comes from the standard 2400cc 12 valve engine. The motor is completely stock internally. Ian fabricated an equal length steel tube header mounting a Garrett TO4 turbo and Turbonetics wastegate. The Turbo features a T-5 compressor and O trim turbine with a .58 housing. The header and 2.5 inch downpipe are ceramic coated. The exhaust system consists of 2.5 inch mandrel bent tubing topped off with an Edelbrock RPM stainless steel muffler. The turbo breathes through 3 inch plumbing and a large, fender mounted K&N filter.

Induction plumbing is constructed from mandrel bent 2.25 inch steel tubing which was powder coated flat black for a factory look. Two Spearco intercooler cores form a 12 x 12 x 3 unit. The stock secondary butterfly valves were removed from the intake manifold for better airflow. The rats nest of other extraneous bits were removed from the intake area for a more sanitary installation.

Special injector adapters and spacers were machined to allow replacement of the stock O ring type injectors with inexpensive Bosch barb style 500cc units. The distributor was removed entirely to allow space for the turbo and provide a convenient location to drain back the turbo oil without removing the oil pan.

A Racetech SDS EM-1 F management system eliminated the primitive and restrictive airflow meter to control fuel and spark, via its programmable digital computer and direct fire coil pack.

Torque is delivered through a Centerforce dual friction cluch to 225/45/ZR16 Yokohama AVS intermediates mounted on 16 x 7.5 OZ Pluton wheels. The car was lowered and stiffened up with Eibach springs and Tokico shocks.

The Vericom shows about 230 hp on tap with 7 psi boost, on 92 octane fuel. 1/4 mile times come up at 13.8 seconds and 98 mph. Boost is kept to this level because of the high 9.4 to 1 compression ratio. Torque delivery is seamless with no abrupt turbo rush. Boost starts as low as 2000 rpm and the engine pulls hard to its 6500 rpm rev limit. Noise levels are very low in the car, even at full throttle, and the handling and road holding is very impressive.

All in all, a very refined package capable of running with 300 ZX twin turbos at a fraction of the cost.