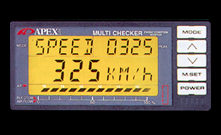 What is the Apex Multichecker?
The A'PEX-i Multi-Checker features:
Monitors all various aspects of NISSAN vehicles using the diagnostic signal.
The Multi-Checker is a valuable diagnostic tool designed for most NISSAN fuel injected automobiles. The unit monitors and displays a wealth of information and is unmatched by any other similar diagnostic meter on the market today.
The unit displays vehicle speed and engine RPM both in real-time and peak hold modes. Injector pulse duty is displayed in percentages with a peak hold mode. The airflow percentage, ignition timing, horsepower display, torque display, and air-fuel ratio display add to its impressive list of functions.
The unit can also alert the driver to recommended up-shifting points and will sound an alarm as the air flow meter or injectors reach maximum capacity. A large, easy-to-read display clearly shows all functions and is back-lit in orange for easy nighttime visibility. The display can also be set to a bar graph mode for quick and efficient monitoring.
-: Installation :-
-: 95+ Installation :-
If you have a 95 240 and don't read through this article, you will be very sorry...
Okay, 1st to start off, the instruction manual has NO instruction for the 95+ 240sx ecu, so I went through lots and lots of trial and error to get this working. In the end I ended up callin Apex-I in California.
To start, heres a few tips.
Make sure you disconnect your battery 1st, to ensure safty of your car!
Once you get to your ecu (Located behind the passenger kick plate), you will find a white cover over the wires, to get it off, one side of the cover has two clips that you can stick your flathead screwdriver in to pop it off.
Do that and pull a little.
You dont have to remove the ecu to do this, just the wire bracket off the ecu.
Make SURE you hook up the right wires, otherwise you'll be sorry (personal experiance, I screwed up and I couldn't start up the car, and the ecu threw a code!)
Okay, now for the install
Follow the directions exactly, but use this diagram....settings are the same as the LARGO
Or the pin numbers
#102- Injector signal
#3- N0.1 Ignition Signal
#10- Ground
#26- Vehicle Speed Signal
#38- IG Power
#40- Crank 180 Degree Signal
#41- Crank 1 Degree Signal
#47- Air Flow Signal
#38- Ignition Power
For the dip settings... dwn dwn dwn up dwn dwn dwn up
And thats it!! Have phun!!
[email protected]
Reviews
I think its a very great tool for monitoring your vehicle's information. I am very impressed.
How do you install the APEXi Multichecker in a 89-90 Nissan 240sx SOHC.

I recommend using T-taps and female spade connectors instead of the metal connectors included with the Multichecker by apexi. They're safer and plastic coated.

1.Remove Negative battery terminal.
2.Remove the passenger side dash side lower plastic panel to gain access to the ECU.
3.Remove plastic cover and bolt that holds wire harness to ecu.
4.Use N2 illistration to find wires that must be T-Tapped to multichecker harness. Crimp female spades to multichecker harness wires(you need about 7-10 depending if you want speed govener removed).
5.Splice in T-Taps to wires on ecu harness.
6.Connect spades and multichecker harness to Ecu harness.
7.Run multichecker wire harness under carpeting to the underside of passenger seat. Connect to Apexi Multichecker black box (after useing jumper settings at the end of these instructions)
8. plug multichecker lead wire into black box and run wire under seat rails to center of center console(or wherever desired. I mounted mine directly under my CD player) useing magic sticky tape included with multichecker.
9.Reinstall wireing harness, interior panels and negative battery terminal.
YOUR DONE!!
Dip switch settings on black box that you hide up,up,up,up,down,down,down,up (vehicle name:Largo in instruction book)

Use the ECU wiring diagram N2 in instruction booklet
James Barrie
Email: [email protected]